CHECK IT OUT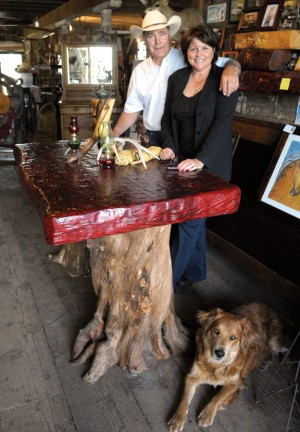 What: Darv's Cowboy Custom Western Furniture.
Where: Brewster Barn, 35476 Brewster Road, Lebanon.
Info: 541-401-8886 or www.cowboycustomfurniture.com.
Lebanon couple revives Montana business to bring Darv's Cowboy Custom Western Furniture to the valley
When Darv and Sheila Averill picked up stakes and headed to Lebanon two years ago, it was to relax and spend time with their grandchildren. And maybe dabble in the custom furniture making that had made them a pretty well-known name in Montana. But just dabble.
It worked for a while. There was some relaxation and plenty of time for the grandkids but eventually the lure of what had sustained them for more than 30 years brought the Averills back into the business world.
"It's true we were thinking it would be a hobby," says Darv, 61, a Montana legend not only as a woodworker but as a Hall of Fame rodeo cowboy. "But with the economy what it was we just turned it all around again and we're back in business."
It's easy to see why. The Averills run Darv's Cowboy Custom Western Furniture out of their nearly 80-year-old barn on Brewster Road just outside Lebanon. The huge two-story wood barn now holds Darv's uniquely styled tables, beds, lamps and more. Doubling as an antique store, Brewster Barn is gaining the attention of local customers very quickly.
Only operating at full bore since December, Brewster Barn features a small workshop where Darv pieces together his wooden treasures and a showroom for his creations and the numerous antique fixtures the Averills have added.
"We've been surprised by the response from the local area," said Sheila, 51. "People are coming over to check it out. We've been averaging about 80 or more customers every Saturday."
Darv grew up on a dude ranch in Montana and helped build lodges and cabins, and the furniture that went inside. He developed a rough-hewn sense of woodwork that he's perfected over the years into more than 100 designs. His work has sold internationally from his original studio on a ranch in Big Fork, Mont.
Now he's back at it, although for the moment, in a scaled back operation. He works with wood that is either recycled or reclaimed. Darv harvests dead or fallen trees, gets wood from dismantled barns, and takes in wood from friends and neighbors who are looking to get rid of material from dilapidated structures.
"Something we pride ourselves in is that we are producing a green product," Sheila said. "We claim wood that might otherwise be getting tossed away."
Darv has collected wood from all over his properties in Oregon and Montana. He turns it into sturdy, useful pieces for homes. His furniture includes items made from cherry, maple, oak, myrtlewood and even a fallen sycamore he salvaged from his Lebanon property. In the barn he displays items that include different colors, textures, sizes and woods. Many include intricate designs he fashioned with his chainsaw.
"People have ideas of what they want but not too many come with their own designs," Darv said. "They may show us a picture and we go from that … try to make something that will fit in."
Sheila says people have been dropping by from all over the valley, which she is hoping will build into a strong clientele.
"I think more people are starting to come back to custom-built products. It was down for a long time in this economy but they seem to be ready to get back to high-end items," she said.
They currently have two full-time employees, one of whom, Gary Coakley, does all the leatherwork for the business.
Much of the sales from the Brewster Barn are online, where the original business grew worldwide. Even so, the Averills have plans to expand. A nearby bunkhouse is scheduled to house more items and Sheila says they will offer a variety of activities at the site, including speakers and artisans.
An open house is set for Saturday, Aug. 20, and will have live music, food, a quilt show, and demonstrations of cowboy skills, including Darv's favorite, roping.  He's a five-time state calf roping champ in Montana.
"It's been a good move here. People couldn't believe we would leave Montana but this is great," Darv said.
"We come from cowboy stock in Montana but this is a good strong farm community and the people are a lot like where we came from," Sheila added. "They've opened their arms to welcome us."